We'll Take a Hybrid Approach in 2021 – Here's What That Means

It's by far the question we currently get asked the most, and rightfully so. And it's the question every organizer in the world is grappling with and trying to answer…
What format will the conference take this year?
After much thought and consideration, and seeking advice and counsel from more people than we can possibly count, we have arrived at an answer.
In short, the All Things Open (ATO) conference in October will be a hybrid format event. There will be a return to in-person programming for two days and we'll live stream a portion of that programming to a worldwide audience.
Conference Dates
Let's start at the beginning, which in this case is event dates. ATO 2021 will be a two-day conference with the first day being Monday, October 18 and the second day being Tuesday, October 19. Sunday, October 17 will serve as the traditional move-in day for staging, technical, and sponsors, and we'll host t-shirt giveaways and a (socially distanced) social on the 17th as well.
Conference Times
To a degree we'll revert to the schedule from 2019, which will seem like a lifetime ago to many we know:
Sunday, October 17 – All move-in activities and giveaways will take place between 12 noon ET and 6 pm ET. The social will begin at 6:00 once move-in and giveaways have been completed.
Monday, October 18 – Registration and check-in will open at 7:30 am ET sharp and live programming (keynotes) will begin at 8:45 / 9:00 am ET. Wrap-up will occur between 5:00 and 5:30 pm.
Tuesday, October 19 – Registration and check-in will open at 8:o0 am ET sharp and live programming (keynotes) will begin at 9:00 am ET. Everything will be wrapped up around 5:00 pm.
In-Person Programming
While we are currently planning to return to in-person programming on both the 18th and 19th, it's important to note we'll scale things back a bit. By this, we mean we'll limit attendance to 1,500 – 2,000+ each day, instead of the 4,000 – 5,000 of the past. We're doing this for several reasons, but primary among them is to maintain safety protocols and ensure things like social distancing remain in place. As we've said since the onset of the pandemic, attendee safety is of utmost concern to us, and we'll work closely with the Convention Center and local officials to make sure attendees remain healthy and safe. The floor configuration will also change a good bit to decrease traffic congestion and room and track capacities / configurations will be adjusted as well.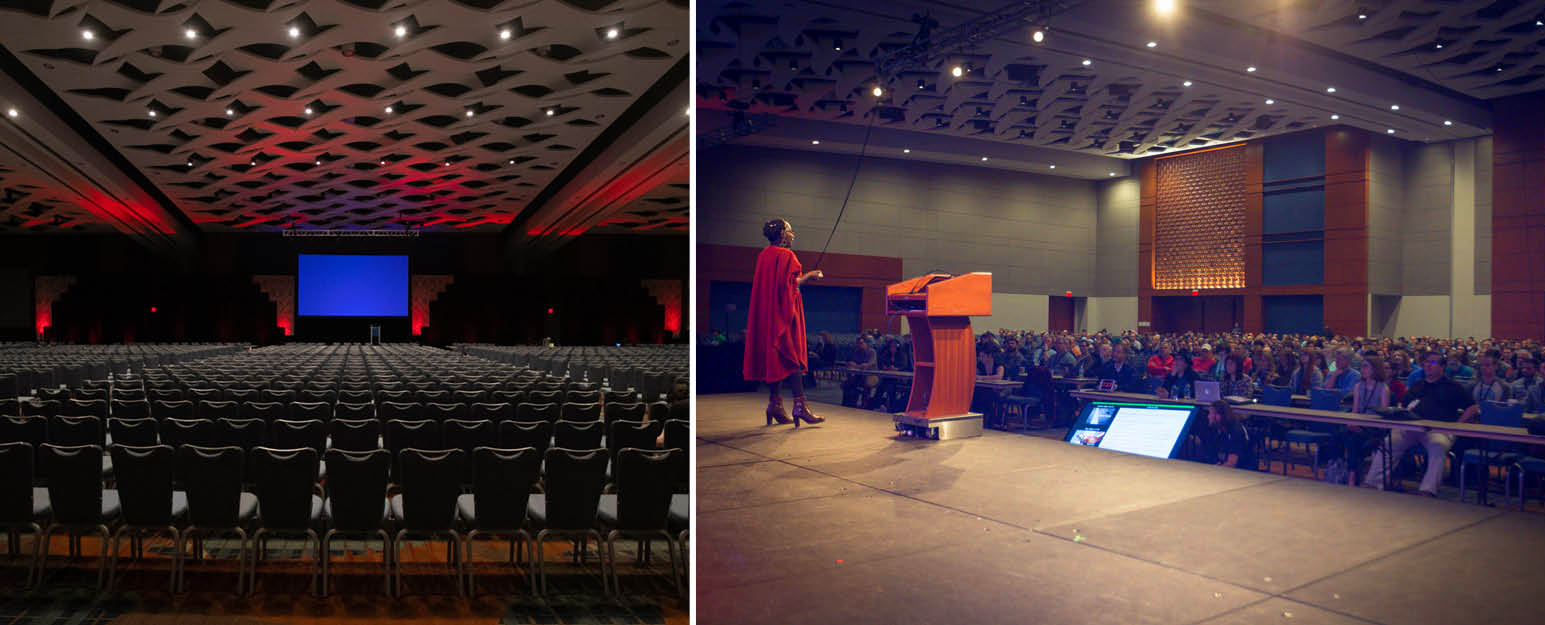 Virtual Programming
We're excited to be returning to in-person programming in 2021, but we're equally excited to host a virtual event in a virtual environment as well. A portion of live programming will be live streamed to a worldwide audience, to ensure everyone can attend and participate, regardless of where they happen to be located in the world. The virtual environment will again be 6Connex (the same platform used in 2020 for ATO and OS101 in 2021) and layout and design will be both intuitive and very cool. We'll utilize Zoom as our 3rd party video platform as well, again as we have in the past. Anyone attending the virtual component will experience world-class sessions and speakers in an environments that is easy to navigate, as well as access to some of the top companies and organizations in the world (Exhibit Hall). Networking opportunities will be tremendous here also as professionals from all over the globe gather.

Registration and Costs
There will be a cost to attend the in-person component of ATO at the Raleigh Convention Center, and the virtual component will be free (thanks to our Presenting level sponsors). We'll revive our now-famous Super Early Bird $99 special following launch or until all tickets are gone (a limited number of tickets will be available at this level), and remaining tickets will be available at tiered levels. *The official 2021 website and registration launch is now scheduled for July 13, 2021, which is in line with pre-COVID events.

Two final items we feel are important to point out at this time.
We're basing the above format and associated decisions on a lot of data gathering and careful observation over the last 3-4 months, and a dash of assumption making when attempting to look ahead 5-6 months with variables changing and moving around. Like most everyone else, we very much want to return to in person, but we never want to endanger anyone's health in the process. Because of this we'll continue to monitor the on-the-ground situation carefully and we will adjust the format accordingly if and when warranted. Again, and we can't emphasize this enough, we will never knowingly and wantonly put anyone at risk, and we will take every precaution to ensure attendee and community safety.
We sincerely ask for your patience and understanding as we move toward ATO 2021. Needless to say, we have never hosted what amounts to two(2) events – in person and virtual, so we're tackling challenges we've never dealt with before. It will require more work and agility than we've ever put into an event, and it will require the support and patience of the most amazing community in tech (that would be you), but we think the end result can be magical.
Many more details are on the way soon, and we ask everyone reading this to let us know if you have questions in the meantime at [email protected].
Join Mailing List